Written by Bruce R. Copeland on March 20, 2009
Tags: navigation, map, compass, races, heat acclimation, moab, gold bar, golden spike, poison spider, trail, training, ultrarunning, water bladder
With the Buffalo Run 50-mile only two weekends away and most trails in northernmost Utah far too muddy, it seemed like a good time to head to Moab for some heat acclimation training. The plan was to run the Gemini Bridges road, Gold Bar Trail, Golden Spike Trail, and Poison Spider Trail—the same route used for the Red Hot Moab 33k.
We arrived in Moab at 9:00 in the morning. After a fortuitous encounter with Chris Martinez at the start of the Gemini Bridges road, my sled dog Chilli and I set off. I began with a 70 oz water bladder and two full 24 oz water bottles.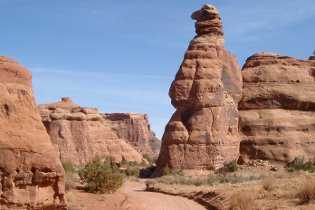 It was a pleasant 4 mile climb along the Gemini Bridges road. We then turned onto the Gold Bar Trail, which is reasonably easy to follow all the way out to the east overlook. At that point Gold Bar becomes the Golden Spike Trail heading south. Golden Spike is difficult to follow because in many places the 4x4s have cut several different routes to handle difficult terrain. It is often necessary to pursue these different routes some distance to find the marked route.
Somewhere around mile 11, we got off course and ended up covering an additional 6 miles. This occurred at a four-way trail junction where we took a well-marked trail approximately west for about 3 miles. Several times along this route, I checked map and compass bearings. In each case the trail appeared to follow the course indicated on the map for the Poison Spider Trail. Eventually our trail began to turn north, and it was obvious we were not on the correct route. We turned back. There were some nice climbs and descents on slickrock—this section could have been a lot of fun if we hadn't been off course.
Finally we reached the four-way junction again and eventually found the correct (Golden Spike) trail. It didn't hurt to pick up some extra miles, but in retrospect I should have originally taken the time to check all the trail possibilities at the four-way junction.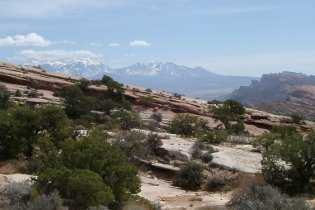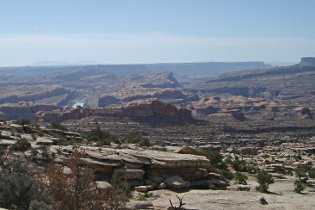 We continued along the correct Golden Spike trail for about another 1.5 mile before it turned into what was obviously the Poison Spider Trail. Navigation was straightforward along Poison Spider, and the trail eventually spit us out at the trailhead next to the Colorado river.
Overall it was a good training run. There were lots of great views! Temperatures were in the mid seventies, but there were half a dozen pools in the slickrock where Chilli was able to get water.