Written by Bruce R. Copeland on July 16, 2009
Tags: aid station, belly lamp, elevation, hardrock 100, headlamp, lottery, pacer, races, ultrarunning, wait list
2009 was supposed to be my year to run the Hardrock 100. Alas it was not to happen. I was position 32 on the wait list after the lottery in early February. Over the next 5 months I advanced to position 5. Based on past years, my chances for getting into the race looked good. So we drove to Silverton, CO. Unfortunately this year, for the first time, no one on the wait list got in at the end of registration.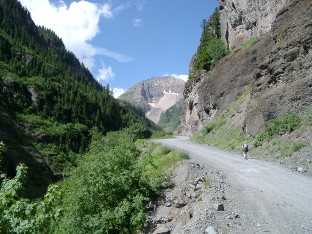 Frustrated, I decided to see if someone still needed a pacer. Ouray, 56 miles into the race and the lowest point on the course, seemed like a good place to look for a runner who might want a pacer. Sure enough around 8 PM Kirsten Thompson showed up looking for a pacer for her husband Sam Thompson, who was expected to arrive soon. I was careful to caution her that Sam is a lot faster than me, and I might not be able to keep up for the entire last 44 miles of the race. On the other hand, I climb well, have good skills on technical downhills, and lots of experience with night trail running. I was confident I could get Sam from Ouray to Telluride and probably to Chapman at a good pace. There also weren't any other available pacers.
Sam and I left Ouray a little before 9 PM and headed up the trail through Box Canyon Park, which eventually spilled us out onto the Camp Bird Road. We power hiked this FS road almost 6 miles and 2800 feet up to the Governor Basin aid station. Along the way we saw a total of two trail markers.
From Governor Basin, we then climbed an additional 3 miles and 2300 feet to Virginius Pass. There were steps and a fixed rope on the ice at the very end of the climb. The approach to the fixed rope was poorly marked, and we veered somewhat more west than we should have. I fell on this icy approach section, skinning both knees. In the future I would use YakTrax (which I carried this time, but elected not to use). The descent from Virginius all the way to Telluride was a blast!
At the Telluride aid station, we stocked up. Roch Horton, his pacer Ty Draney, and Aaron Denberg arrived shortly before we left. We headed out for the 4300+ feet trek up to Oscar's Pass. This was a long, grueling climb along the Wasatch trail, and we both struggled some. All through the climb we could see the lights from the other three runners below us. Generally this section was well-marked.
Normally I do not need a lot of auxiliary light for night running—a head lamp on low beam and a belly light on medium are plenty. However on this course, there were a couple times when Sam had better success seeing distant reflector markings because he had a powerful beam. For this course, I recommend runners carry a good high beam light (possibly a hand-held that can be turned off most of the time).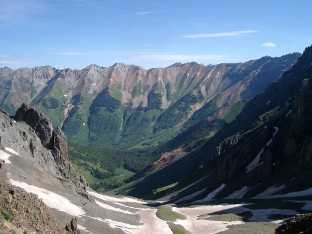 We hit the pass just after dawn, and the views were outstanding! The trail down to Chapman on the other side of Oscar's Pass was extremely rocky and unfortunately slow even for runners skilled at technical downhills. We rolled into the Chapman aid station about 6:30 AM. At this point, I was starting to really feel the effects of (for me) pushing the pace for 26 miles. With the arrival of dawn, Sam however was starting to look very energized. As we left Chapman, I cautioned him that I really might begin to slow him down. I also noticed that Roch Horton and his pacer Ty Draney had arrived and immediately left Chapman shortly after our departure.
We pushed on for a couple of hours toward Grant Swamp Pass. I was really getting tired by this time, and I knew Roch and Ty couldn't be more than a few minutes back. Below U.S. Grant peak I managed to convince Sam that Roch was catching up and that he should go on without me. He did, and I stopped to change into daytime clothing. Sure enough Roch and Ty passed me within about 5 minutes, followed by Aaron Denberg about 10 minutes later. I watched the three of them struggle up the loose stuff just below Grant Swamp Pass. After observing which path worked best for them, I followed.
Dropping off the other side of the pass, I headed (slowly) towards the KT aid station. There I managed to snag a ride back to the finish line at Silverton with Lois MacKenzie, the Hardrock aid station coordinator.
Sam maintained his 5 or 6 minute lead over Roch for the last 12 miles, and both Roch and Sam passed Ricky Denesik along the way. I got to watch Sam finish strong in seventh position at just over 31 hours.
Pacing Sam was a great opportunity for me to get out on the Hardrock course and also see what it is like much further up in the pack than I am used to. I also found out just how important it is for me to maintain a more moderate pace if I want to run the entire course.