Written by Bruce R. Copeland on March 23, 2014
Tags: cycling, gary fisher, leadville 100, mountain bike, training, vuelta
In recent years, I've found I can't routinely run four or five days a week the way I once did. My solution has been to start riding a mountain bike for some of my training. So this past Fall, it was time to build a new mountain bike. Much of the mountain biking world is switching to 29 inch wheels and full-suspension frames. I'm sure I would want a 29er if I were planning to do something like the Leadville 100 bike race, but for now I wanted something really fun—something that would motivate me to get out and ride hard and long. A lightweight 26er hardtail seemed like just the prescription.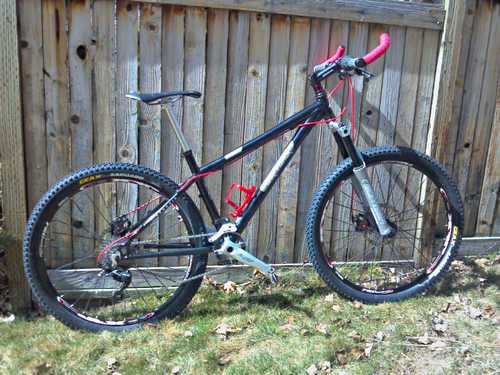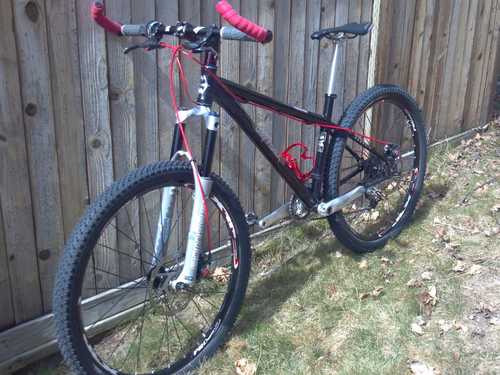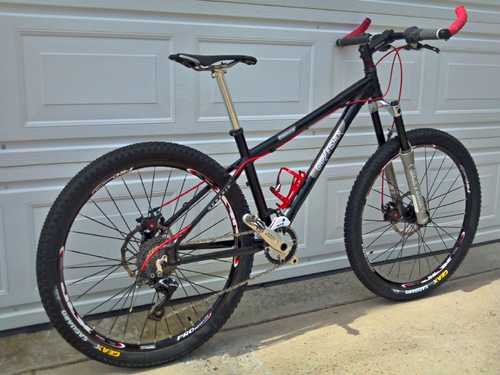 In October I managed to pick up a very slightly used Gary Fisher Cronus/Wahoo frame for a little more than a song. The original Gary Fisher Wahoo was a relatively low-end (for Gary Fisher) production mountain bike equipped with entry-level components. The Cronus was a Wahoo set up as a street bike. However, the frame for both bikes was the same gold series Genesis G2 frame used on higher-end Gary Fisher models. (The Cronus frame here weighs 3.3 pounds.) I find the G2 geometry with its longer top tube length particularly ideal for me.
Using a mix of new and slightly used components (and help from running partner and fellow cyclist Craig Stahl), I built the bike as follows:
Specifications:
Frame:  2008 Gary Fisher Genesis G2 Cronus Frame (15.5 inch)
Front fork:  2005 Marzocchi Marathon SL Bomber 30 mm x 120 mm travel
Headset:  Cane Creek 40 Series EC34
Stem:  Race Face Evolve XC 110 mm
Handlebars:  Race Face Ride 580 mm
Bar Ends:  Specialized
Wheelset:  Vuelta Mountain XRP Pro Superlight 135 mm QR  with Vuelta forged, alloy, high-flanged hubs and sealed-cartridge bearings
Tires:  GEAX Saguaro Mountain 2.2 inch (mounted tubeless)
Brakes:  SRAM BB7 mechanical with 185mm rotors and full-run Jagwire CEX cable housing
Seatpost:  27.2 x 330 mm Thompson Elite with Thompson seatpost collar
Saddle:  Specialized Phenom Pro 130 Ti rails
Pedals:  Shimano M520
Crank:  Shimano XT M760 Hollowtech II BB70 (73mm frame shell) single 32 ring
Rear Cassette:  Shimano XTR 9-speed (11-34)
Rear Derailleur:  Shimano SLX Shadow Plus GS
Rear Shifter:  SRAM X0 9-speed Twister
Total weight on this build is about 24 pounds—6 pounds lighter than a stock 2008 Wahoo and quite respectable for a non-carbon 26″ hardtail.
I am mostly satisfied with the Vuelta wheelset. The wheels are smooth, light, and plenty strong for my weight. As a former wheelsmith, I was however unhappy with the fact that these new wheels arrived with locked spokes and with the front wheel off-center and slightly out of true. For mountain bike wheels, spoke locking compound is a bad idea even when the wheels are perfectly built—sooner or later your rim is going to hit something. In this case, I needed to be able to fix the front wheel alignment. I soaked the spoke nipples (both wheels) with PB Blaster for 5 days, and then used a spoke wrench to carefully break loose all the locked nipples before re-truing the front rim.
I set up the rims for tubeless tires using Gorrilla tape (ghetto tubeless), Stan's presta valve stems with removable cores, and Stan's sealant.
The Marzocchi Marathon SL shock is a light, air-cartridge shock that performs well for me, even when I'm riding aggressive All Mountain. It is currently set up with 25 psi in TST and POS chambers, 75 psi in the NEG chamber, and 20 psi in PAR. I have the damping adjustment positioned 1.5 turns from maximum damping.
The BB7 mechanical brakes with 185 mm discs squeal a bit when wet, but have vastly more stopping power than I could ever dream of needing. Indeed 160 mm discs might be a more suitable choice for this bike.
Probably the only other upgrade I might consider would be a Race Face narrow/wide 34T or 36T front chainring. In combination with the Shadow Plus clutched derailleur, there would no longer be any need for a chain guide.
This bike is a blast to ride (although I'm still trying to work up enough strength to climb really steep uphills given that the lowest gear  of the 1×9 is 24 gear inches). Lately I have been cycling two or three times per week in addition to running three times a week. Quite a few of these workouts have been trail runs followed by time on the bike (e.g. 10 mile run followed by an hour on the bike or a 32 mile run followed by 2.5 hours on the bike.) Not only does the cycling allow me to extend the length of the whole workout, I'm also finding that the spinning tends to reduce soreness and stiffness in my legs. Only time will tell if this actually improves my running.