Written by Bruce R. Copeland on June 15, 2015
Tags: bear 100, jeep trail, single-track, trails, ultrarunning
Shorty's Cutoff is a great section of trail that doesn't get enough use by trail runners. The southern part of Shorty's connects White Pine Creek trail to Steam Mill Hollow, and the northern part extends from Steam Mill Hollow to Steep Hollow. This northern section is also mile 64 to 67 of the Bear 100, but hardly any Bear 100 runners ever see it in daylight.
Yesterday my dog and I started at the Tony Grove backcountry trailhead and ran to White Pine lake, where we picked up the White Pine Creek trail east. About a mile after turning onto White Pine Creek trail, the trail crosses White Pine creek. Below the crossing, the trail continues east about 3/4 mile down a big open meadow. I find the easiest way to get to Shorty's is to bushwack north across the creek at the base of this meadow. You quickly see a trail north of the creek, and you can follow this trail west (upstream) for about 1/3 mile to Shorty's Cutoff. This first part of Shorty's is narrow and rocky (needs more use) and climbs fairly steeply to a pass between the White Pine creek and Steam Mill creek drainages. The trail from the pass down to Steam Mill creek is wider and can be a lot of fun for a runner. The trail reaches Steam Mill creek right at the Steam Mill itself.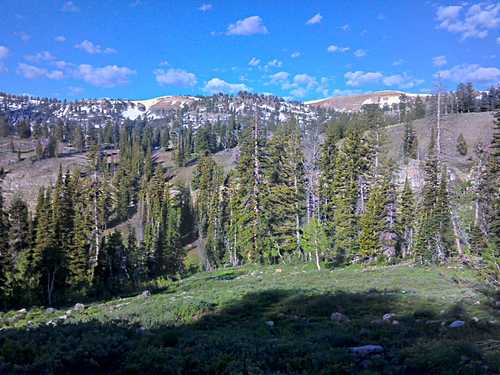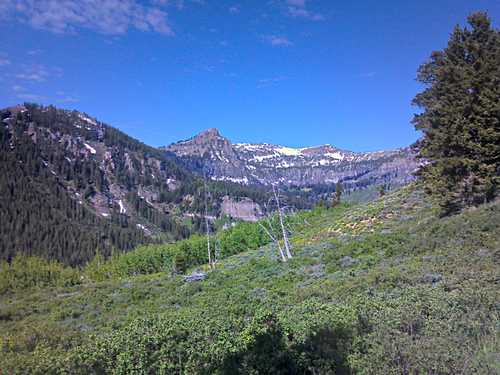 After crossing Steam Mill creek, Shorty's Cutoff heads north across a meadow. (Do not take the main Steam Mill trail which heads east down the meadow.) Just beyond this meadow, Shorty's climbs through some trees out to a higher meadow. From here the trail continues north for three miles, alternating between dark, fir-lined draws and large meadows with fantastic vistas. You cross Hell's Kitchen canyon drainage and pass above the yurt, eventually arriving at the jeep trail down Steep Hollow. This northernmost three miles of Shorty's is a really enjoyable section of trail, although the trail surface is not as good as it was a few years ago. Also this year there is a portion where an avalanche brought down many fir trees (the first major draw north after the climb out of Steam Mill). The horsemen have done a good job sawing through the downed fir trees, but the trail itself still needs major work there.
After getting to Steep Hollow, we reversed course and returned to the Tony backcountry trailhead. Total distance was around 22 miles.